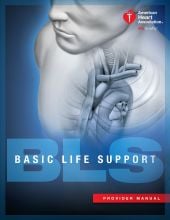 The BLS Healthcare Provider Course is designed to provide a wide variety of healthcare professionals the ability to recognize several life-threatening emergencies, provide CPR for infants, children and adults, use an AED, and relieve choking in a safe, timely and effective manner. The course is intended for certified or non-certified, licensed or non licensed healthcare professionals. Healthcare providers such as physicians, nurses, paramedics, emergency medical technicians, respiratory therapists, physical and occupational therapists, physician's assistants, residents or fellows, or medical or nursing students in training, aides, medical or nursing assistants, police officers, and other allied health personnel.
eCards are issued electronically the same day upon successful completion of the course. You must have a valid email address. Shameeka McDuffie will be your instructor.
If you do not see a date that works for you, please call the office at (843) 629-7133 or email us at mcduffieblsinstructor@gmail.com. We are available to schedule classes for groups of 5 or more at our facility or yours.
The Heartsaver First Aid course trains participants first aid basics for the most common first aid emergencies, including how to recognize them, how to call for help, and how to perform lifesaving skills. Reflects science and education from the American Heart Association Guidelines Update for CPR and Emergency Cardiovascular Care (ECC) and the 2015 AHA/Red Cross Guidelines for First Aid.
Who should take this course?
The AHA Heartsaver First Aid Course is designed for anyone with limited or no medical training who needs a course completion card in first aid to meet job, regulatory, or other requirements.
What does this course teach?
First aid basics
Medical emergencies
Injury emergencies
Environmental emergencies
Preventing illness and injury